FEATURES
Kit Includes: Power Adjustment spacer plates to adjust magnetic strength, Drill-in rubber buffers
A silent magnetic catch replacement kit for most Baldwin, Emtek or Ives, fits most 2-1/8″ x 1-3/8″ strike and 1-0″ x 2-1/8″ catch ball catch
BENEFITS
magnets create a quieter solution than the traditional ballcatch, virtually silent
no contact with frames prevents unsightly damage over time
time tested magnets never lose their strength or need replaced
no ball to spring means no fighting to get the door closed
easy installation with little to no adjustments needed over time
Precision Lock PLS19BCR-SS Ball Catch Replacement Magnetic Catch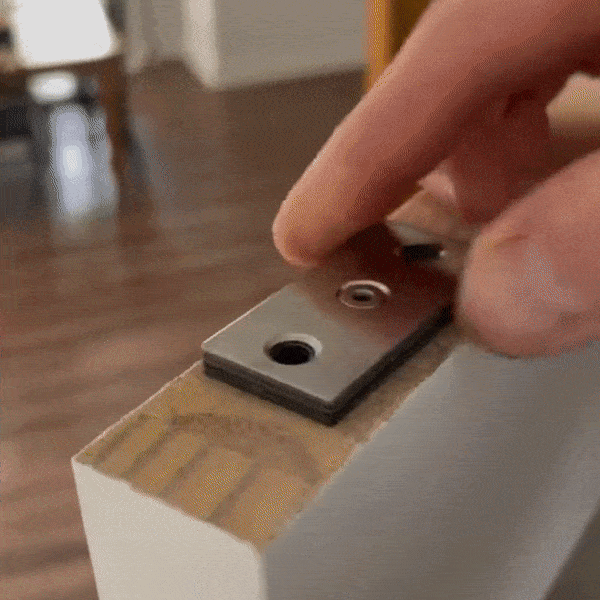 Can Be Used Anywhere a Roller / Ball Catch Would Normally Be Fitted
Magnets Don't Touch After Installation, So the Catch Will Never Wear Out
No Latch Noise
Completely Concealed When Door Closed
Quick and Easy Installation
Precision Lock offers premium quality magnetic door catches. Using unique, yet simple, installation with stainless steel cups to ensure magnets are parallel to each other for optimal strength. The magnets don't touch – so they will never wear out, providing long lasting functionality. Power adjustment packers can increase magnetic holding strength.
PRODUCT DATA
PLS19 BCR Concealed Magnetic Catch
Ball Catch Replacement Assembly
Includes power adjustment spacer plates, drill-in rubber buffers
SUITABLE FOR
Fits most 2-1/8″ x 1-3/8″ strike and 1-0″ x 2-1/8″ catch ball catch, including Baldwin, Emtek or Ives
WHAT'S IN THE KIT
Power Adjustment spacer plates to adjust magnetic strength, Drill-in rubber buffers
INSTALLATION INSTRUCTIONS
WARNING
Use extreme caution when handling magnets as the attractant forces are very powerful and if allowed to snap together violently small sharp chips can be thrown off.